| | |
| --- | --- |
| Article number: | M622B-S21-STANDARD |
GTV-GMB VW T5 / 6 modular roof rack system complete for long wheelbase.
Builts up only 55 mm over the van
the Standard kit includes:
4x modules
1x front panel "wedge"
1x rear panel standard.
Aluminum black powder coated
the DELUXE kit includes:
4x modules
1x long front panel "branch protection /LED"
1x rear panel standard.
Aluminum black powder coated
Other configurations are possible!
-----------------------------------------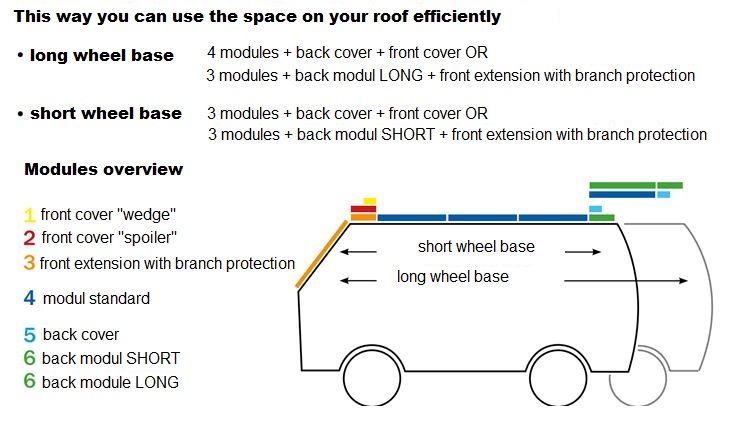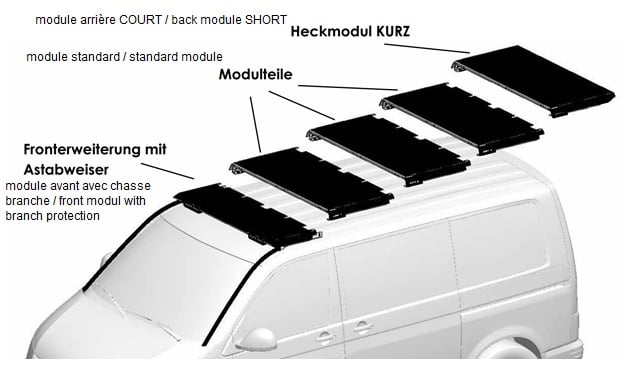 INFO: The modular roof rack system GTV GMB
  The roof rack that grows with the tasks!
  Expandable Stable Expedition Carrier
Designed specifically for long journeys and demanding off-road driving, our roof rack is the first fully modular system that can be adapted to your needs at any time.
The extremely light and at the same time very sturdy construction can be extended or reduced in a few simple steps and gives the vehicle the necessary torsional freedom.
    Fully modular roof rack system thanks to individual module parts
    low installation height despite stable construction
    completely walkable and safely loadable everywhere
    extremely light construction
    integrated LED headlights and branch protection possible
    various front / rear modules to choose from
    black coated lightweight aluminum
    integrated lashing point system
    various fixing accessories available
    protects your van from heating up in the sun!
Already with a modular part and the standard rear panel you get an independent and complete roof rack, which can be mounted anywhere on the roof. Should the space requirement on the roof rise, the cover is simply removed and another module built in between. With each module, the number of side (adjustable in height) support legs and the stable cross braces increases. Depending on the wheelbase, a total of 3 or 4 modules plus rear module can fit on the C-rail of the T5 / 6.
Important: The roof rack is mounted in the original C-rail on the roof . A variant for retrofitted AirLine rails is in work.
ASSEMBLY: Installation requires an original C-rail on the vehicle roof. If this is not already installed on your VAN, you can also order here a retrofit rail.
The flush mounting points allow the lashing points and structures to be aligned and moved as desired. We develop (also together with our customers) always new, practical accessories for the most different applications.
Since the tastes are known to be different, we have opted for a bolted railing that can be easily and quickly mounted on the support when needed (or if you like).
Shipping is easy possible due to the modular design. The carrier comes pre-assembled, so that the installation on the roof only takes about one to two hours.
The on some pictures shown front module with LED lights and side bar guides is available as an option.
Dimensions
module standard
  widths:    1450 mm
  height over the roof: +55 mm
  lenghts:  +588 mm per module
  weight:  approx. 11 kg depending on the module

Shipping
possible as oversized parcel via special transport and with supplementary shipping cost.
Delay normally between 5 and 15 days